Motocross Gear - MX Goggles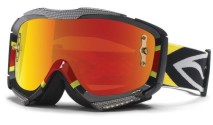 Many of the leading manufacturer of off road and dirt bike goggles, such as Scott, also manufacturer bike, paintball and other eye protection.
Scott goggles have been an industry standard for many years. Scott utilizes the latest in eye wear technology to design the most comfortable and safest goggles.
You will find many manufacturers incorporate No-Sweat technology to help prevent sweat when you least need it. It's sweat eradication technology helps your eyes stay dry.
All of high tech goggles utilize UV protection, anti-fogging, and no-sweat technology.
Be mindful that googles also have to fit in with your helmet. They should work seamlessly as one to protect your face and eyes from incoming roost.
Learn more from the video below: